Our Programs
Rambia's Health Centre
RAMBIA operates a Health Centre II with a Clinical Officer serving as In Charge, a midwife, nurses, pharmacy and a laboratory technologist. Service provided includes:
Ante-natal, post-natal and midwifery services, including regular mother-and-baby clinics;
Diagnostic and dispensing services;
Vaccinations;
HIV/AIDS counselling services and prevention of mother to child transmission;
Full range of laboratory services;
Referral to specialist services
The in-patient and maternity wards have a total of 13 beds.
Rambia's Community Development Work
RAMBIA has worked with the community on the development of a community plan which includes the design of a gravity water system to serve the community. Funding is being sought for implementation,
Rambia's Microfinance Work

Rambia is in the process of working with 20 Village Savings & Loans Associations which pool savings, make loans to members and access external credits in order to improve livelihoods.
Rambia's School for Orphans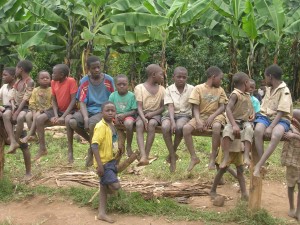 Because of the large number of orphans in the community and the weaknesses in the public education system, the RAMBIA Orphanage Care Nursery & Primary School has recently been established to serve both orphans and private students. Located in a nine room building near the RAMBIA Health Centre, the school provides classes for Nursery School and Primary levels 1-5. It is hoped that its ready access to the Health Centre will bring about improvements in the children's health. Every child is given one meal a day, a service which is not provided in the public school system.
Please consider making a donation: your gift will go towards establishing and operating the school, including:
Feeding the children;
Constructing latrines;
Buying school supplies; and
Buying uniforms and books.