About Us
Rwenzori Mountains Baghuma Integrated Association (RAMBIA) is an indigenous non-governmental developmental and voluntary organization formed in 1993, reflecting the desire of the rural population to develop and implement strategies for improving the standard of living.
Our Mission
To create a positive change among the rural population by building their capacities and advocacy for self-reliance, social services, vocational and recreational activities for economic development.
Our Vision
Becoming a reputable, credible and sustainable organization facilitating the transformation of the rural population through self-reliance and poverty alleviation initiatives.
Objectives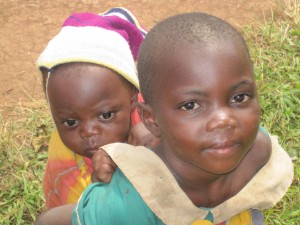 To provide medical services particularly those related to improving maternal and infant health, preventing and treating HIV/AIDS, malaria and other life-threatening diseases and addressing community health issues through training, teaching, and organizing clinics and outreach programs including vaccination programs.
To promote agriculture, including poultry keeping, apiary, horticulture, animal husbandry and conservation of the environment;
To promote education and vocational training such as carpentry, tailoring and handicrafts;
To promote self reliance and empowerment of the rural poor and sensitize the community to HIV/AIDS, human rights and other issues;
To advocate for and provide improved water and sanitation services for the community;
To facilitate and support through microfinance loans and other means farmers' and women's groups in the community; and
To seek out and facilitate relationships with overseas and Ugandan organizations willing to partner with the community in support of the above objectives.
Uganda and Our Community
Uganda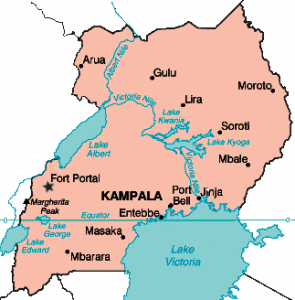 Uganda's population is estimated at 34 million with a projected growth rate of 3.5%. 62% of its population is under the age of 20. The population faces a high disease burden, including perinatal and maternal mortality (20.4%), malaria (15.4%), respiratory infections (10.5%), and diarrhoea (8.4%). 1.2 million people are living with HIV/AIDS, the 8th largest number in the world. Malaria, acute respiratory tract infections, diarrhoea and malnutrition contribute to over 70% of overall child mortality which stands at 75 per 1,000, while under-five mortality is 137 per 1000 and infant (under 1 year) mortality is 64.2 per 1,000 live births (the 22nd highest in the world). 16.4% of children under 5 years of age are underweight.
The maternal mortality ratio is high, although there has been a decline from 527 maternal deaths per 100,000 live births in the 1994-2000 survey to 435 in the 2004-2005 survey. High fertility, the high incidence of infectious diseases, poverty and poor health services for pregnant mothers all contribute to these high levels of maternal mortality.
Uganda, like other developing countries, is also seeing the emergence of a "double burden of disease" because of changing lifestyles and the aging of the population. While communicable diseases remain common, there is also a growing number of non-communicable diseases – such as heart disease, diabetes, cancer and mental illness – and medical conditions resulting from trauma and accidents. These health problems, along with the HIV/AIDS epidemic, have sharply limited gains in life expectancy. Life expectancy at birth for Ugandans is 50.4 years (females 52, males 48.8).
Our Community
RAMBIA and its Health Centre are at Kyamakube Trading Centre in the foothills of the Rwenzori Mountains, near Rubona, south-west of Fort Portal which is 320 kilometres west of the capital, Kampala. In the local government structure, RAMBIA is located in Nsuura Parish, of Katebwa SubCounty in Kabarole District.
The region is predominantly agricultural with the principal food crops being sweet potato, maize, cassava, beans, yams and bananas. The main cash crops are tea and coffee. About a third of Kabarole District is forested and the area attracts many tourists for gorilla tracking and to see chimpanzees and other wildlife, particularly in Kibale Forest National Park to the east.
Fort Portal, the capital of Kabarole District, is a small town with several hotels, good shops, restaurants and several banks. Good accommodation can be found at Mountains of the Moon Hotel, Rwenzori View Guest House and the Lisieux Conference Centre. It attracts many tourists because it is a good base for gorilla tracking, and for trips to the Kibale Forest, Magombe Swamp, Bigodi and Bunyaruguru Crater Lakes. Luxury lodges such as Ndali and Kyaninga are also available.
The immediate community served by RAMBIA is populated predominantly by subsistence farmers who because of the inaccessibility of the terrain have difficulty getting their crops to market as well as accessing the limited health care facilities. In particular, it is difficult for expectant mothers to get to a hospital to deliver their babies, and RAMBIA's Health Centre provides essential services to mothers and their children who otherwise would have to give birth at home.